How to clean an oven?
Batmaid
March 22nd at 9:39pm
Are you embarking on a spring cleaning and want to include a deep oven cleaning? Here are a few easy tricks you can use to properly clean your oven while using everyday ingredients.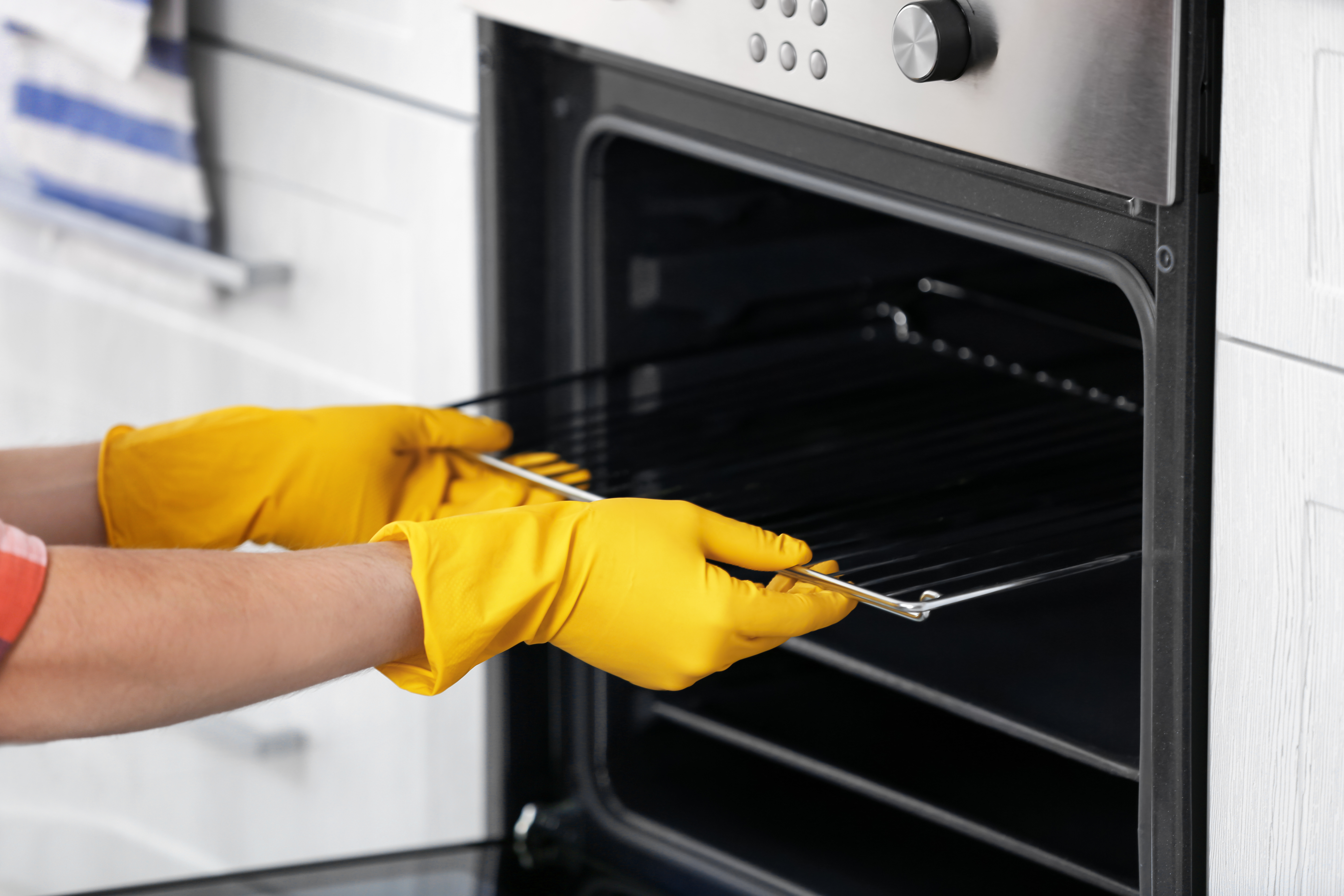 How to degrease an oven rack?
Before cleaning the inside of the oven, start by degreasing and stripping the rack. Once this is cleaned, you will have an easier way to access the inside of the oven. The oven rack is often very greasy and sticky. The best method to clean is as follows:
Place your oven rack in your sink;
Prepare a sponge, hot water and dishwashing liquid;
Scrub vigorously.
If the rack is very dirty, you can replace the dishwashing liquid with black soap, which has a very strong degreasing power. The use of a metal sponge is also possible to remove sticky residue.
How to clean an oven with baking soda?
Now that the rack is cleaned, let's get down to business: the inside of the oven! To clean a dirty oven, there's nothing better than baking soda. Environmentally friendly and economical, it is also incredibly effective at cleaning ovens thanks to its degreasing properties. If you have baking soda at home, get it out and make this recipe:
Make a paste by adding 6 spoons of baking soda and 2 spoons of water to a bowl;
Spread the paste all over the inside of the oven;
Leave overnight;
Rinse with a damp sponge.
Now you know how to clean an oven with baking soda! If your oven is really dirty, you can reinforce this recipe by adding white vinegar or 1/3 of sodium crystals. Apply the paste on the walls of the oven and leave it overnight. Rinse and your oven will be as good as new! Greasy walls, no matter how dirty, will not resist this mixture.
Some people advise you to turn on your oven for 30 minutes at 250 degrees Celsius to speed up the cleaning process. You can do this if you are in a hurry. However, waiting and leaving it overnight is much more environmentally friendly and economical.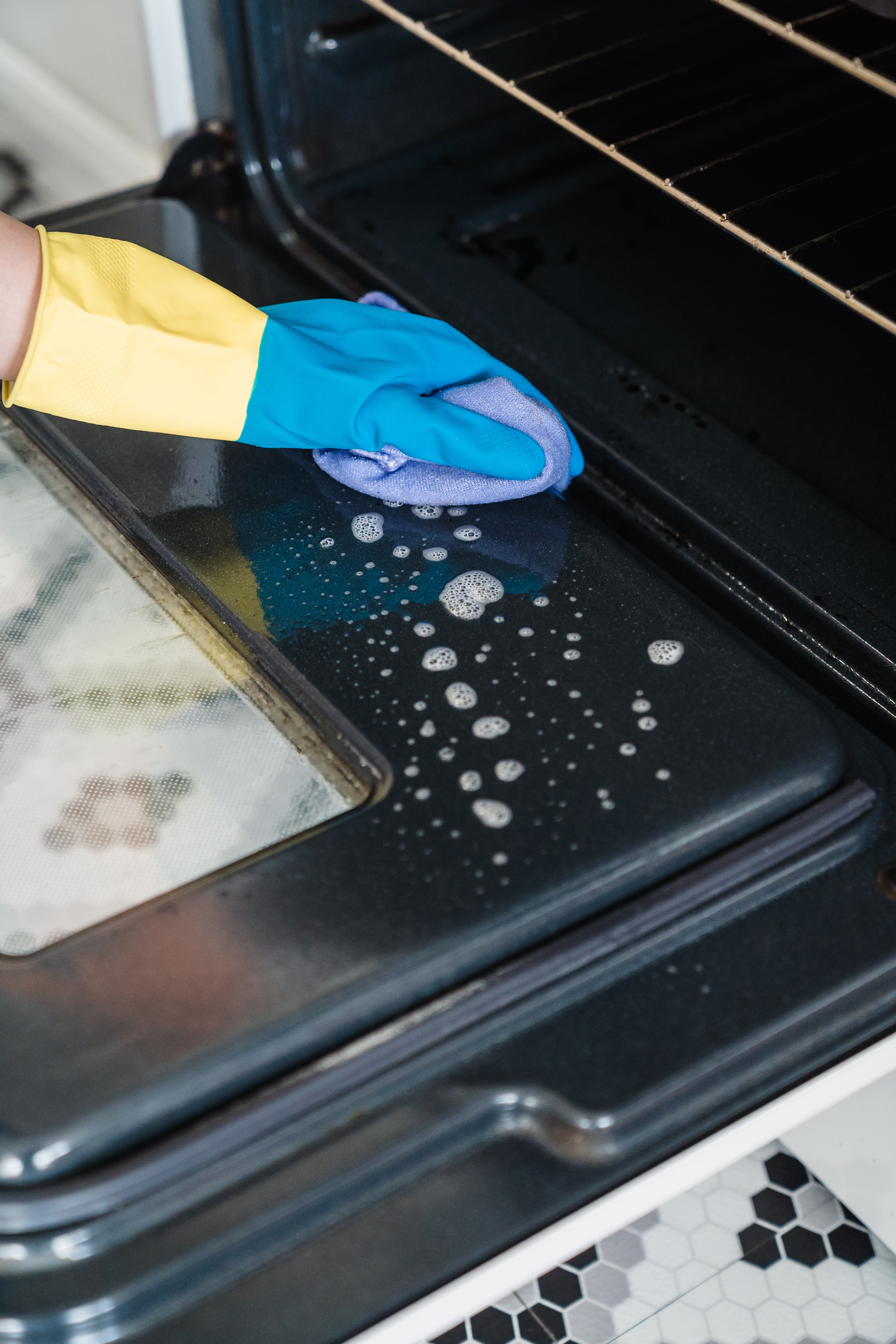 White vinegar to clean an oven door?
Once the inside of the oven is clean and tidy, it's time to tackle the oven door. Sometimes as dirty as the inside of the oven, it deserves our full attention! And the best ingredient for this is white vinegar. Usually used to clean windows or descale taps, it is also unbeatable for degreasing and stripping the oven door.
So here's a recipe made just for that, using baking soda and white vinegar:
Make a paste, mixing 5 tablespoons of baking soda and 3 tablespoons of white vinegar;
Apply this mixture to your oven door, rub gently;
Rinse with clean water.
With this mixture, you will no longer have to deal with grease and other food residues. Your oven door will be sparkling clean!
How to get rid of bad smells in an oven?
Thanks to all these tips, your oven is as good as new! Well, almost. Even if the oven walls and door are cleaned, degreased and stripped, there may still be some bad smells trapped inside. Fortunately, there is a natural ingredient that is perfect for eliminating bad odors: lemon!
Here's how to remove bad smells from an oven with lemon:
Cut a lemon in half;
Place the two halves on the oven rack;
Turn on the oven at 200 degrees Celsius for a few minutes.
Thanks to the antibacterial and refreshing powers of lemon, your oven not only smells fresh but is also perfectly sanitized. If you don't have a lemon, other citrus fruits (orange, grapefruit, etc.) can do the trick as well.
For regular maintenance, you can place half a lemon or a few zests (anti-waste tip) in the oven while it is still hot. This way, your oven will smell fresh all year round.
Although you now know how to clean an oven easily and naturally, you can imagine that regular maintenance is the best way to go. So remember to always clean your oven after each use to save you precious time down the line.