How to clean a fabric sofa?
Batmaid
March 22nd at 9:39pm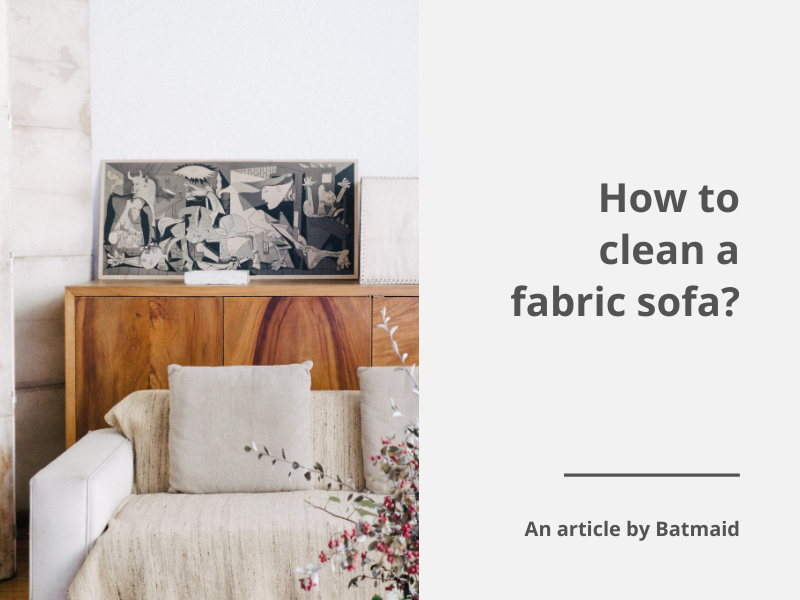 Whether it's convertible, corner, fixed or modular, the sofa is a central piece of furniture in your living room. But between evenings with friends, children and pets, it often gets stained. While sofas with removable covers are easy to clean at the dry cleaners, for others, things are more complicated. How do you clean a fabric sofa? Here are some tips on how to remove stains from your fabric sofa with eco-friendly and economical ingredients.
How to dust a fabric sofa
Is your fabric sofa stained, and you don't know how to go about cleaning it? Before you embark on the cleaning journey, start by thoroughly dusting your sofa. This will prevent dust and pet hair from becoming embedded in existing stains. If you use the hoover hose directly, you run the risk of leaving marks on the fabric. To avoid this, use your hoover with the right nozzle for dusting fabrics. For a thorough dusting, make sure you vacuum the entire surface of the sofa, in the corners, between the cushions and in the seams.
While dusting, if you notice a few small stains, you can use shaving foam locally. This tip may seem surprising, but it is effective because of the absorbency of shaving foam. Wondering how to clean your fabric sofa with shaving foam?
Simply follow this method:
Apply shaving foam to small stains that are not very deep;
Leave it on for at least an hour;
Gently rub the stain with a damp sponge or flannel;
Leave to dry in the open air.
This tip is effective on recent, light stains. For larger stains, it's best to pick ingredients such as baking soda or white vinegar.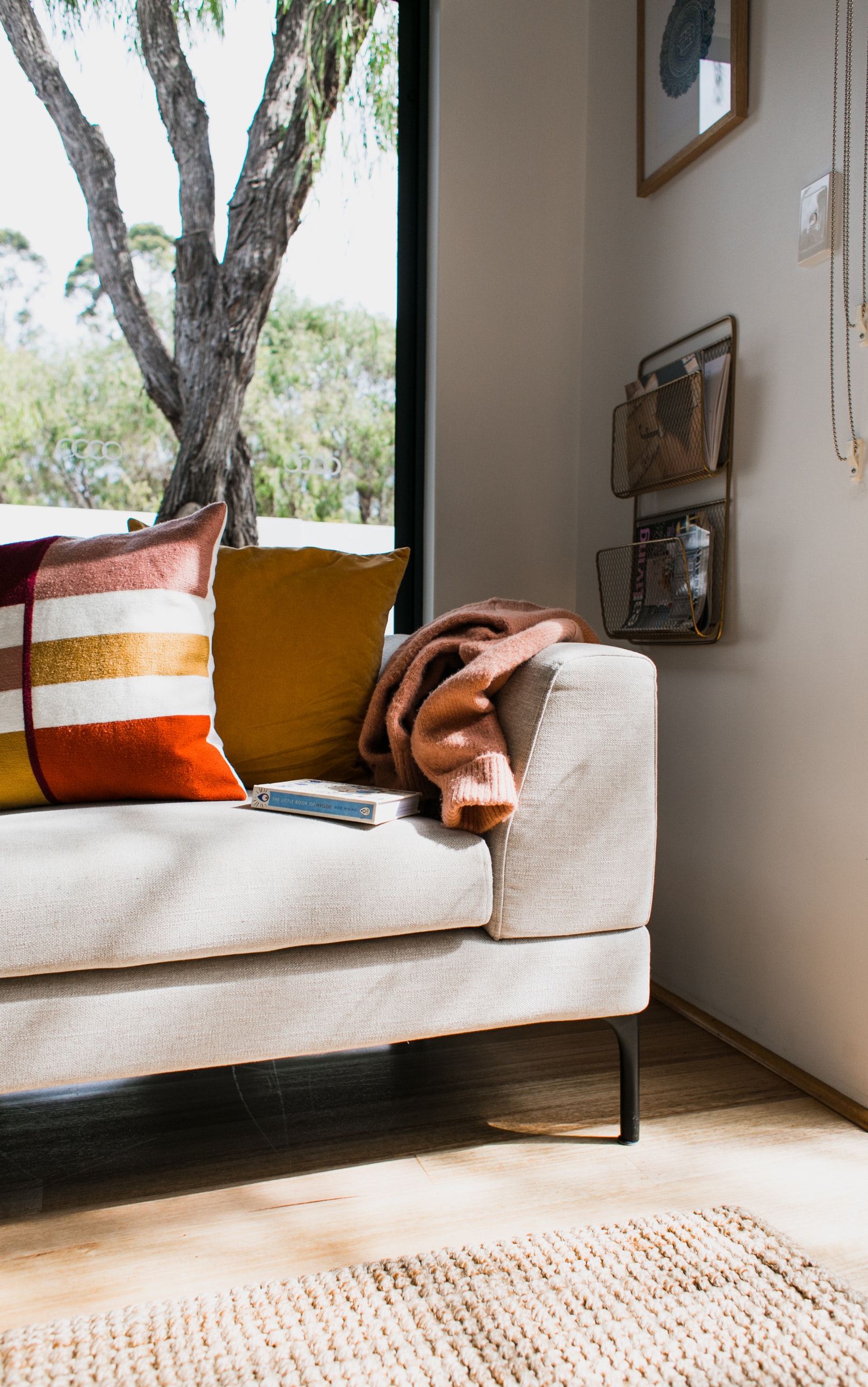 How to use baking soda to clean a fabric sofa
Baking soda, a true ally for an ecological and economical household, will surprise you with its great effectiveness against stains. Its strong absorbency makes it an essential ingredient for cleaning a fabric sofa effectively and naturally. Here is how to clean a fabric sofa with baking soda:
Sprinkle the baking soda on the stains;
Leave it on for at least an hour (overnight at best);
Vacuum the sofa.
Even if your sofa is not stained, you can use this tip to revive its colours. Baking soda is an economical and environmentally friendly ingredient for successful dry cleaning. If you don't have baking soda in your cupboards, you can also use Terre de Sommières. This clay powder has the same absorbent and degreasing properties as baking soda.
How to clean a fabric sofa with white vinegar
If your sofa has very embedded stains, you need to opt for another method. Did you know that white vinegar is very effective as a cleaning agent? In fact, in addition to being highly effective for cleaning windows and faucets, white vinegar can remove encrusted stains from all types of fabrics. Like baking soda, it has the advantage of being environmentally friendly and economical. To clean a fabric sofa with white vinegar, here is what you need:
A container (bucket, basin, etc.);
500 ml of white vinegar;
200 ml of warm water;
2 tablespoons of washing-up liquid;
A sponge;
A flannel.
Here's how to clean a fabric sofa with white vinegar:
In a container, mix water, white vinegar and dishwashing liquid;
Moisten a sponge with this mixture;
Rub the fabric, paying particular attention to the stains;
Rinse with clean water using a washcloth;
Allow to dry.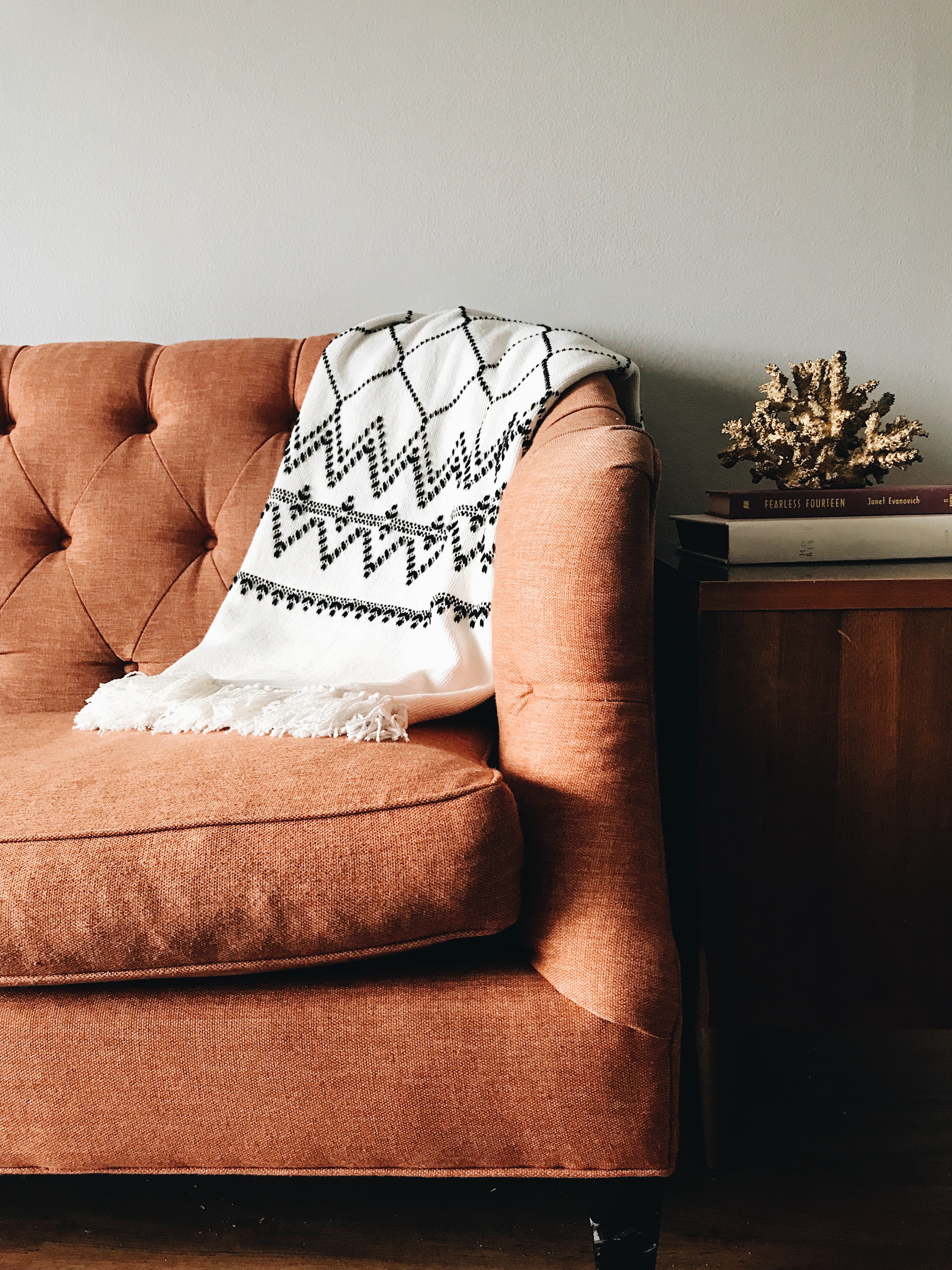 To prevent stains from forming, rinse the entire surface of the sofa. This method is foolproof on all stains. But to avoid disappointment, be sure to test the vinegar on an inconspicuous part of the sofa to ensure that the fabric can withstand the acidity of the white vinegar. Use this tip primarily to clean a solid-coloured sofa, as the colours may bleed through the white vinegar. Do you have a leather sofa? White vinegar, diluted with water, can also be used to clean this type of sofa.
Prevention is better than cure! So, to protect your fabric sofa, don't hesitate to apply an anti-stain treatment. Various products are available on the market. You can also use a steam cleaner to thoroughly sanitise your sofa. So say goodbye to dust mites and bacteria!